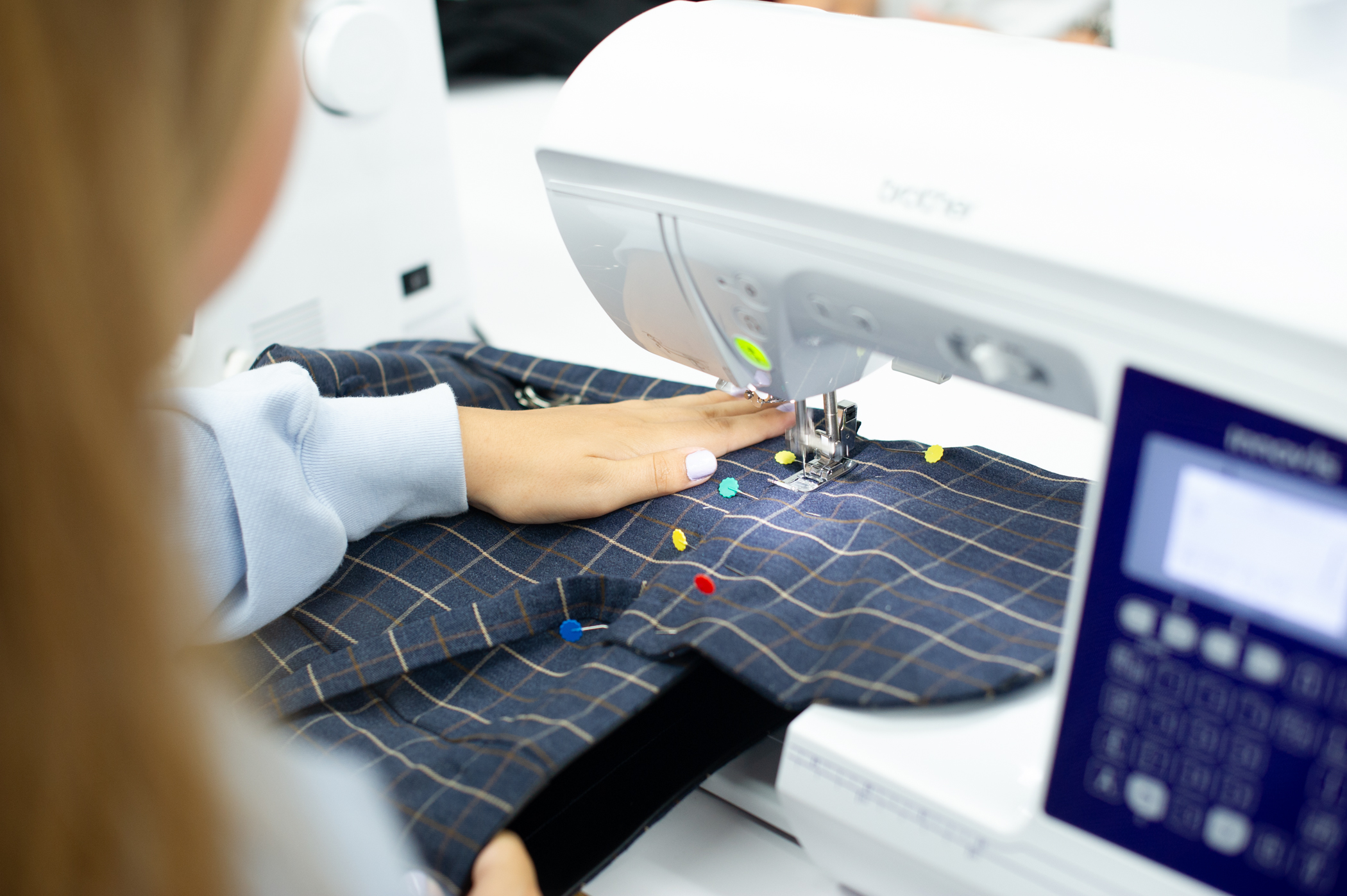 Sewing and Pattern Drafting Workshops
Adult Workshops at La Movida will teach you the necessary skills to bring your design from start to finish. Our classes are open to all levels of experience, from beginners with a passion to create, to intermediate and advanced sewers that want to build on their existing design skills. Our sewing and pattern drafting classes are taught by industry-trained instructors. The small classes will allow instructors to engage and assist with each student's design needs. All fabric and supplies included in our workshops.
Design is more than just sewing. Join us to explore and express your creative ideas!
Note: $5 one-time registration fee applied for New Students.

Private Lessons with an Industry Expert
Looking to get some guidance on your project or need a bigger workspace to cut out your patterns? We offer private lessons and studio rentals!
Private 1-on-1 lessons are taught by our lead instructor and head designer, Laurie. Simply tell us what you want to make and Laurie can help you get started. After your lesson, you are welcome to stay and work on your project in the studio. Lessons are booked in 30min sessions and studio time is pay-as-you-go.
Skills and Techniques

Learn how to thread a sewing machine
Learn the sewing machine basics (machine features)
Learn about sewing tools and terminology
How to read pattern pieces
Fundamental skills in pattern layout, pinning, cutting, and marking techniques
Go over different stitches and seam finishes (straight stitch, backstitch, zig zag stitch, etc.)
How to sew a fully lined tote bag with adjustable straps
How to sew a box bottom

Complete a one-of-a-kind project by the end of the class
Industry-trained instructors
Ages 16+
One time 3-hour class
Fabric and supplies are included
No previous sewing experience needed
New Students are subject to a one-time $5 registration fee
Now taking registrations!
Skills and Techniques

Take personal measurements to determine pattern size
How to read pattern pieces
Proper pattern and fabric layout
How to transfer markings onto fabric
Proper fabric cutting techniques
Go over different stitches and seam finishes
How to put in an elastic waistband
How to gather fabric

Prerequisite: Intro to Sew Workshop or relevant sewing experience
2-day Workshop – 2.5 hours each class (Total 5 hours)
Fabric cost NOT included
New Students are subject to a one-time $5 registration fee
Skills and Techniques

Take personal measurements to determine pattern size
How to read pattern pieces
Proper pattern and fabric layout
How to transfer markings onto fabric
Proper fabric cutting techniques
Go over different stitches and seam finishes
How to put in an elastic waistband, inseam pockets
How to hem pants

Prerequisite: Intro to Sew Workshop or equivalent sewing experience
Fabric cost NOT included
New Students are subject to a one-time $5 registration fee
Pattern Drafting | Dress Block
Create a made-to-measure or commercial size dress block/sloper pattern (includes bodice & skirt block)
Students will take home a full scale dress block ready for creating a muslin/toile
Industry-trained instructors
Ages 16+
Some sewing experience required
One time 4-hour class
All supplies included
New Students are subject to a one-time $5 registration fee
Pattern Drafting | Pant Block
Create a made-to-measure or commercial size pant block/sloper pattern
Students will take home a full scale pant block ready for creating a muslin/toile
Industry-trained instructors
Ages 16+
Some sewing experience required
One time 4-hour class
All supplies included
New Students are subject to a one-time $5 registration fee
Private Lessons & Studio Rental
One-on-one 30 minute Private lesson ($37.50)

Flexible curriculum: simply let us know what you want to learn or if you need instruction on a project

Pay-as-you-go Studio time rental  ($15/hour)

Large cutting tables – no more cutting on the floor! We have pins, fabric scissors, fabric weights, etc. at your disposal
Computerized sewing machines with a large workspace

Fabric and thread available for purchase in-studio and online
Scroll down for more options